AUTOMATION SYSTEMS OF HASO S.C. COMPANY ARE:
Our mission is continuous development and improvement of existing products and the design of new systems leading to increased efficiency and safety at work in factories.

HASO company has started a cooparation with
Australian company Mine Site Technologies
and presented intrinsically safe location, VoIP and transmission system for the mining industry.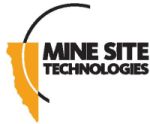 Company HASO S.C. offers comprehensive professional services in the design and introduction of new systems in mining telemetry and automation. We have been in business since 1990. Through these 25 years we have been introducing a lot of new products and we have gained a high position in the market. Our brand is identified with professionalism and a high quality of products and services.
Individual approach to the customer allows us to precisely identify the current needs, and cooperation with international companies to access the latest technological developments. We invite you to look through our offer.